PA/The Huffington Post UK
A man who allegedly threatened to bomb Asian restaurants and carry out an "Oslo-style" attack has been arrested, according to a group which monitors the English Defence League.
Northumbria Police said a 29-year-old man from South Shields, South Tyneside, was held for questioning on Saturday on suspicion of assault and possessing racially inflammatory material.
He has been bailed pending further inquiries, a force spokesman said.
According to the EDLNews website, which claims to "reveal the truth about the English Defence League", the man posted on Facebook that he had "got a pipe bomb just 4 Ocean Road" – an area of South Shields known for its curry houses.
The writer abused Muslims and then added: "GIVE ME A GUN AN AL DO YOU ALL OSLO STYLE".
The website claimed the man held by police was a member of the EDL.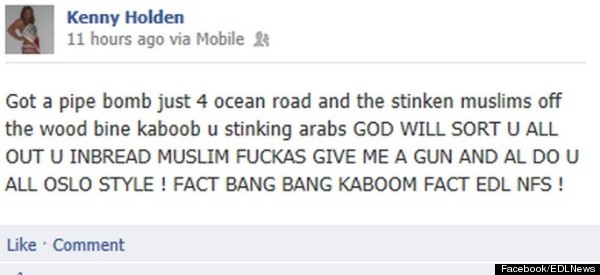 Above: One of the man's posts
Norwegian gunman Anders Behring Breivik is currently on trial for mass murder after killing 77 people last July. His Oslo car bomb killed eight before he went on to massacre 69 more people on Utoya Island.
Northumbria Police said the assault the man was arrested for was unrelated to the alleged racial offence which followed "posting of racially inflammatory material on a social networking site".
Chief Inspector Michael Barton, of South Tyneside Area Command, said: "Extensive inquiries are being carried out.
"There is no place for any sort of racial incitement or use of social networking to place inappropriate comments and we take incidents such as this extremely seriously.
"I'd like to reassure the public that a full investigation is taking place into this allegation."
Northumbria Police added: "Extensive inquiries have been carried out and there is no apparent threat to the general public."

Related Posts: