The Huffington Post UK  |  By Sara C Nelson
Three Britons are among nine climbers who have died in an avalanche near the French ski resort of Chamonix.
The avalanche occurred on Mont Maudit, which is the third highest peak in the Mont Blanc massif range.
AFP reports nine people remain missing.

Christian Trommsdorff, vice president of the French Guides Association, told the BBC three Britons were among the dead.
According to local media, the dead also included two Germans, two Swiss and two Spaniards. It is understood 28 climbers from several countries were taking part in the expedition at the time.
"Unfortunately this morning there's been a big slab avalanche," he said.
"We don't know exactly how it was triggered. It is at fairly high altitude there, so it is a snow avalanche."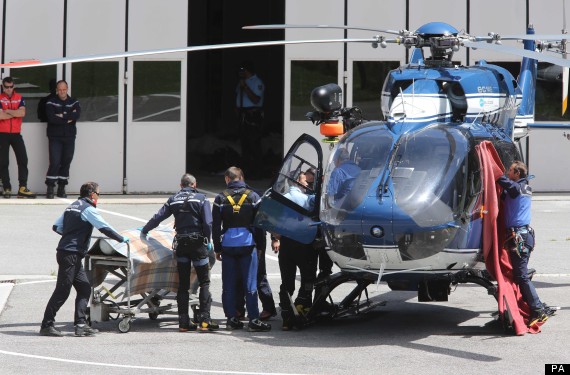 Gendarmes use blankets to hide victims of an avalanche at Chamonix rescue base
Colonel Bertrand Francois, commander of the gendarmerie of the Haute-Savoie, said of the missing: "This does not mean they are under the avalanche."
The injured and dead are thought to be climbers who had been roped together in several groups when the avalanche struck, the BBC said.
Police said they were alerted at around 5.25am local time to the avalanche.
Several dozen gendarmes and other rescuers along with two helicopters worked to pull the six dead and six injured from the mountain.
The injured climbers were taken to hospital.
Mont Maudit is 4,465m high and part of the Mont Blanc range. It means Cursed Mountain in French.
The area is one of the most popular with climbers in the Alps.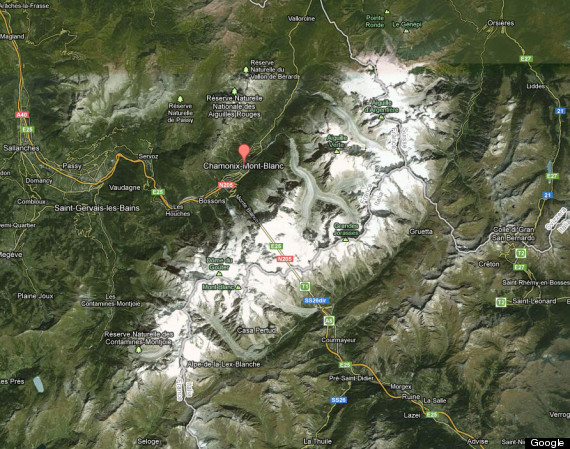 Chamonix sits to the west of the Alps in south-eastern France
A Foreign Office spokesperson told The Huffington Post UK: "‪We don't have any confirmation of reports Britons have been found dead at this point. We're aware of the reports and we're in touch with the rescue authorities. We're urgently working to establish the whereabouts of 5 missing British nationals, and we're ready to provide consular assistance‬.
"If anyone is worried about friends or family members they can ring the British embassy in Paris on +33(0)144513100."
Chamonix-based mountain guide Richard Mansfield said the route where the accident happened was the second most popular to the top of Mont Blanc.
Mansfield said it was not unusual to have 100 people a day use it.
He said: "It's a very beautiful area and a common route but it can have very serious consequences, particularly due to avalanches."
Mansfield, who runs mountainadventureguides.co.uk, said the slopes on Mont Maudit faces away from the prevailing wind which means snow is pushed over forming slabs.
"These can easily be set off by a passing climber, causing an avalanche."
He said the climbing group would be roped together as they used this route, usually just one-and-a-half arm spans apart.

Related Posts: